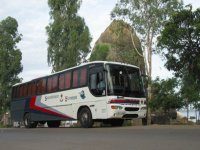 Dar es Salaam - Arusha (Departure Arusha 16:45) - Nairobi (Departure 20:45) - Mwanza
(Semi Luxury Class)
Departure Dar es Salaam 08:00 - Arrival Mwanza 09:00 (next day). Fare: 44.000/= TSH
Dar es Salaam - Arusha (Departure Arusha 16:15) - Nairobi (Super Deluxe Class)
Departure Dar es Salaam 07:30 - Arrival Nairobi 19:45 and Mwanza 09:00 (next day). Fare: 61.000/= TSH
NOTE: Shift to the Semi Luxury Class in Nairobi. Departure 21:30.

Mwanza - Nairobi (Depature Nairobi 23:30) - Arusha (Departure 07:00) - Dar es Salaam (Semi Luxury Class)
Departure Mwanza 11:00 - Arrival Dar es Salaam 15:15 (next day). Fare: 44.000/= TSH
Departure Mwanza 11:00 - Arrival Nairobi 23:00. Fare: 23:000/= TSH
Nairobi - Arusha (Departure Arusha 11:15) - Dar es Salaam (Super Deluxe Class)
Departure Nairobi 07:00 - Arrival Dar es Salaam 20:00. Fare: 38.000/= TSH
Website: www.scandinaviagroup.com Further information and inquires:info@scandinaviagroup.com
Book 2 - 3 days in advance on phone - or book online: click here

Phones international: Dar es Salaam: +255 22 218 4833 & +255 748 218484/5. Arusha: +255 27 250 0153. Mwanza: +255 28 250 3315.
Phones local: Dar es Salaam: 022 218 4833 & 0748 218484/5. Arusha: 027 250 0153. Musoma: 028 262 0006. Mwanza: 028 250 3315.

Scandinavia Express has over 40 daily departures to more than 18 locations within Tanzania, Kenya, Uganda and Zambia. You can travel safely and conveniently throughout this vast region at very reasonable cost with Scandinavia Express.

Scandinavia Express operates a variety of buses. The Super Deluxe (SD Class) buses are comparable to European coach design with reclining seats. The Super Deluxe Class has air-conditioning, passenger seat belts, TV video facility and music system and toilet and operates always with two drivers. The Semi Luxury (SL Class) and ECON buses compare very well with local buses and have no air-conditioning or toilets.

Scandinavia Express operates between Dar es Salaam - Arusha and Nairobi (Kenya) with Super Deluxe Class busses only. In Nairobi you need shift to the Semi Luxury Class - as the new Super Deluxe Class route all the way to Mwanza unfortunately was closed down lately.