To and from Mwanza - by bus
Dar es Salaam - Mwanza - Dar es Salaam
There are several quite decent and comfortable buses every morning at 6:00 AM from Dar es Salaam (Ubungo Bus Terminal 8 km from the city centre) to Mwanza. Fares are ranging from 40,000 to 45,000/= Tanzania Shillings
(one way).

For the moment we will recommend SUMRY HIGH CLASS - for your comfort and safety. Fare (one way): Mwanza - Dar es Salaam: 45,000/= TSH

Departure from Dar es Salaam:
At 6:00 AM from Ubungo Bus Terminal. (8 km from the city centre).

Departure from Mwanza: At 6:00 AM from Nyegezi Bus Terminal
(15 km from the city centre).

Tickets in Dar es Salaam: At Ubungo Booking Office is in room number 18 and/or 40.

NOTE: Buy tickets at the booking office ONLY - and never in the streets from a somebody.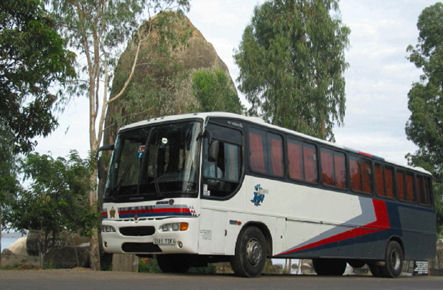 Nairobi - Mwanza - Nairobi
Akamba Bus Service (the only one we can recommend for the moment) is departing from Nairobi Central Bus Terminal at 21:30 (9:30 PM) in the evening with arrival in Mwanza the next morning at 11:00 (11:00 AM).
From Nairobi: The duration is about 12 hours. You will cross the Kenyan/Tanzanian (Sirari/Isibania) border at about 6 AM and you can have your Tanzanian Visa issued here (50 US$ in cash for almost anybody, but US$ 100 for American citizens). NOTE: Bring a light blanket (+ a small pillow for your comfort) - it is cold in The Kenyan Highlands during nights. In the early morning at Sirari: There will certainly/most probably be a chance to get a cup of hot coffee or tea and a freshly baked pancake at one of the many small street kitchens at the crossing.
From Mwanza: Akamba is departing from Buzuruga Bus Terminal in Nyakato at 13:00 (1:00 PM) with arrival in Nairobi at 5:00 (5:00 AM) the next morning (duration is about 15 hours). You will cross the Tanzanian/Kenyan (Isibania/Sirari) border during the evening and you can have your Kenyan visa issued here. Visa fees (- with effect from July 2011) to Kenya are as follows: Transit Visa/Single Journey Visa: 20 US$/50 US$. Fares Nairobi - Mwanza (one way): 36,000/= THS. Mwanza - Arusha via Nairobi (one way): 54,000/= TSH. The ticket/booking office in Mwanza is located in Liberty Street (Majukano Building).
Akamba's telephones in Nairobi are as follows: Land line: +254 20 552218 / 553000 / 535627 / 556062. Cell phones: +254 722 203753 / +254 733 333659. Fax: +254 20 537313 / 559885. Booking in advance is not possible, but call and ask how to book and the procedures in relation to your travel. Please also check the departure time and the fare.
Please check the Akamba website at: Akamba Bus Service- for further details, but don't expect any feed back from mailing/or confirmation on a booking.
September 2011 Safety notice from SUMATRA (Surface and Marine Transport Regulatory Authority): We, SUMATRA - have recently suspended operations of three passenger buses; Mohamed Classic operating from Dar es Salaam to Arusha, Champion plying Dar es Salaam to Mwanza route and Moro Best plying from Dar es Salaam to Mahenge.