International flights to Tanzania are handled by Mwalimu Julius K Nyerere
International Airport in Dar es Salaam, Kilimanjaro International Airport (near Arusha) and Zanzibar Airport. The airport in Mwanza handles domestic and regional flights only.
International carriers serving Tanzania and the region are British Airways, Oman Air, Emirates Airlines, Virgin Atlantic, Egypt Air, Ethiopian Airlines, KLM - Royal Dutch Airlines and Kenya Airways.
Kenya Airways is Africa's finest and leading international airline - with new planes (Boeing 777 - 200ER on long-range flights to/from Europe and destinations in Asia), including excellent service and very high punctuality. Go to Kenya Kenya Airways direct.

By international routes to Tanzania

Regional and domestic flights to and from Mwanza
Precision Air is successfully networking the entire region with a unique combination of speed, a modern fleet, convenience and reliability for both tourists and business travellers.
To/from Nairobi (Kenya), Johannesburg (South Africa) via Dar es Salaam, Hahaya (Comoro Island) via Dar es Salaam and Entebbe (Uganda) via Kilimanjaro - plus the domestic destinations Bukoba, Shinyanga, Kigoma, Musoma, Arusha (Kilimanjaro International Airport), Dar es Salaam and Mwanza as well (several daily flights).
Visit,book and pay online. Mwanza Office: Kenyatta Road (Opposite Kenya Commercial Bank). Phone International: +255 28 250 0819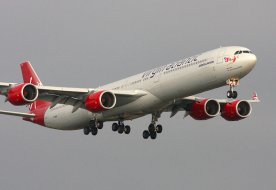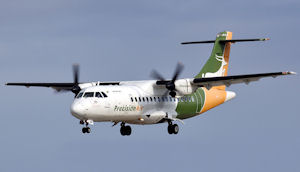 Virgin Atlantic
is a new and very competitive alternative to KLM/Kenya Airways and British Airways - flying non-stop London Heathrow - Nairobi daily with new Airbus A340 - 600 luxury airliners
(photo above).
Virgin is a name synonymous with first class customer service. Please take a look at Virgin's
'Premium Economy'
class - close to
Business
or
First class
standards - for only a few hundreds more. Check
Premium Economy
.
Charter and other scheduled flights - from
Mwanza
Auric Air Services
is Tanzania's preferred corporate and safari airline with a wide network of domestic scheduled services. From its bases at Mwanza Airport - Auric Air provides scheduled flights to some of the most remote and otherwise inaccessible destinations within Tanzania.
Visit Auric Air Services - and book online
.