Copyright 2003 - 2017 by Hans Kristoffersen/Mwanza Guide 'Destinations in Tanzania Ltd. P.O. Box 5204 Mwanza, Tanzania. All rights reserved.
Mwanza - the gallery
Mwanza - Rubondo Island National Park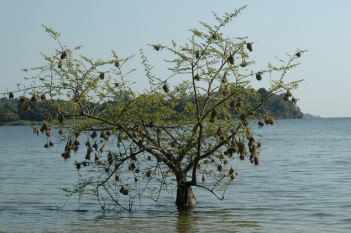 Weaver Birds (Ploceus pelzelni)

Weaver birds, also known as weaver finches, get their name because of their elaborately woven nests (the most elaborate of any birds), though some are notable for their selective parasitic nesting habits. The nests vary in size, shape, material used, and construction techniques from species to species. Materials used for building nests include fine leaf-fibers, grass, and twigs. Many species weave very fine nests using thin strands of leaf fiber. Most species weave nests that have narrow entrances, facing downward.