Copyright 2003 - 2017 by Hans Kristoffersen/Mwanza Guide 'Destinations in Tanzania Ltd. P.O. Box 5204 Mwanza, Tanzania. All rights reserved.
Mwanza - the gallery
Mwanza - The Wildlife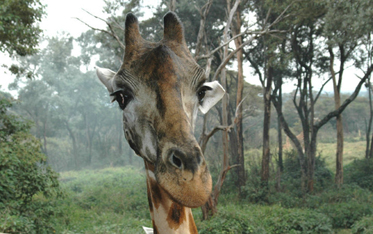 Giraffe
The giraffe is also a record holder among animals in the World - it's the tallest. The male can be as tall as 5,3 meters and can weigh up to 1,500 kg. There are nine different species of giraffes - but in Tanzania you will find the Masai Giraffe (the tallest of all) and the Kilimanjaro Giraffe only.
The funny fellow on the photo is (to be honest) a Rothschild's Giraffe, it's not living in Tanzania and it's portrayed in Nairobi National Park, Kenya. The Rothschild's Giraffe has an extra horn in the forehead.