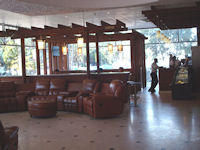 The bar offers football and rugby matches on our two 36" flat-screen TV's.
Each day the bartenders craft a new cocktail for your enjoyment and add it to the extensive list. Come drop by during Happy Hours (17:00 - 19:00) - and try the flavor of the day!
Gold Crest Café
Enjoy a cup of coffee, whether hot or with ice, roasted from locally farmed coffee beans served with unique pastries or a tasty dessert. The café offers couches, high-top tables and a bistro with wireless internet and atmospheric music.
Share a moment with your friends in a contemporary setting or grab a take-away order for later. Our café is located on the ground floor next to reception.
Gold Crest Restaurant
The experienced team of chefs has crafted a delicious selection of dishes to suit your appetite. With over 120 items to choose from, the restaurant offers cuisine from all over the world - also with a large selection of vegetarian meals. All 10 professional waiters have been extensively trained to facilitate a relaxing culinary experience.
Conferences, Events & Banquets
Four rooms in downtown Mwanza to facilitate every imaginable event featuring world-class audio systems and wireless internet. From birthdays to exhibitions, we will assist you to create an amazing experience for your visitors.
Arrange your event at Gold Crest Hotel and enjoy modern facilities with all the necessary equipment to support your success. Whether you're looking for room to run an audition or a fully-seated lecture arrangement, our team will help optimize your logistics.
Further conference information (only): conference3@mwanza-guide.com
Facilities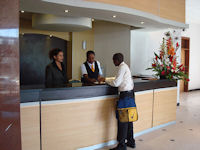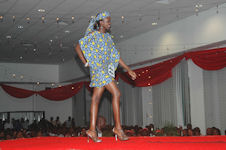 Second Floor Bar
Situated on the second floor, the spacious bar offers visitors a wide selection of refreshments for all tastes. Lounge in designer furniture while enjoying the selection of cocktails or choose you're favourite from over 10 premium brands of whiskey. If you feel like catching some fresh air, head out to our balcony and catch a panoramic view of the city center.