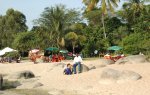 Special offers
The beautiful garden and it's white sanded beach let you laze around in the tropical sun or have fun with your friends.
The fishing boat takes you out on the lake to try your fishing luck.
Enjoy the 'All-you-can-eat-Sunday-barbeque' - directly on the beach.
"Ski Nautique" - the speed boat that makes waterskiing a pure pleasure on a flat lake.
Enjoy wind surfing - when the lake likes a windy day!
Or the 'Cockpit Bar' invites you for drinks and meals.
Tunza Lodge - the only beach hotel in Mwanza!