Copyright 2003 - 2017 by Hans Kristoffersen/Mwanza Guide 'Destinations in Tanzania Ltd. P.O. Box 5204 Mwanza, Tanzania. All rights reserved.
Mwanza - the gallery
Mwanza - and the surroundings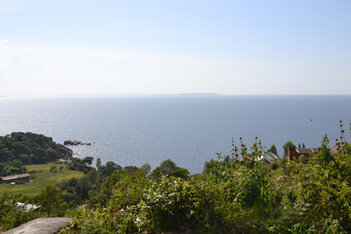 The 'MV Bukoba Tragedy'
Early in the morning on May 21st 1996 MV Bukoba capsized and sank only few nautical miles from Mwanza Harbour - something like in the middle of the photo on this page.
The ferry had a licence to carry 430 passengers, but as many as 800 feared to have died - trapped in their cabins in the overloaded ferry. It is said - that everybody in Mwanza lost a family member, a good friend or a neighbour that morning in May 1996. About 280 passengers survived - many of them by means of banana bunches from the cargo.
Visit the 'MV Bukoba Memorial Statue' - our guide will show you around and tell you more about the tragedy.