Copyright 2003 - 2017 by Hans Kristoffersen/Mwanza Guide 'Destinations in Tanzania Ltd. P.O. Box 5204 Mwanza, Tanzania. All rights reserved.
Mwanza - the gallery
Mwanza - and the surroundings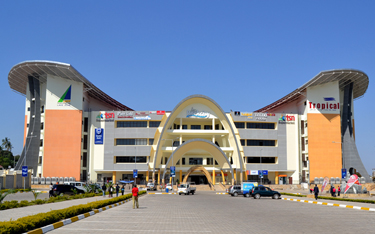 Rock City Mall
Mwanza's shopping centre number one - in modern 2017 terms. The number of stores is increasing slowly slowly. A huge problem in Mwanza City Centre is parking, but not here. You can even find a safe place to 'park' your children while shopping - a very nice play area with interesting things for children to do and try.
The verity of shops are growing - and you will already find a good number of supermarkets, banks, telecom stores, a travel agency, a gold/jewellery store, liquor stores, shoes and fashion for him and especially for her - and new shops are coming. On 3rd floor a new and modern cinema - is offering six movies daily on two screens.