Copyright 2003 - 2017 by Hans Kristoffersen/Mwanza Guide 'Destinations in Tanzania Ltd. P.O. Box 5204 Mwanza, Tanzania. All rights reserved.
Mwanza - the gallery
Mwanza - and the surroundings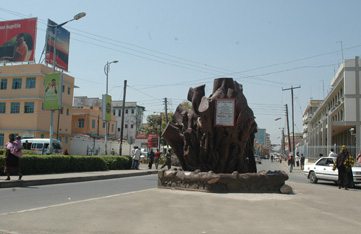 The 'hang tree' in the City Centre
The memorial tree in Mwanza was used by the German rulers to hang criminals during the period of 1890 - 1918 - is not
here anymore.
A huge Coca-Cola truck knocked it down few years ago - and a page in Mwanza's history book was closed that day.