Copyright 2003 - 2017 by Hans Kristoffersen/Mwanza Guide 'Destinations in Tanzania Ltd. P.O. Box 5204 Mwanza, Tanzania. All rights reserved.
Mwanza - the gallery
Mwanza - and the surroundings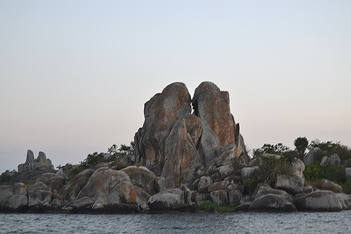 The 'Kissing Rocks'
Fantastic rock formations are found around Mwanza - and some of them just only few kilometre out in the lake - among them 'Fish Eagle Rocks' and in particular 'The Kissing Rocks'.
Mwanza is knows all over as the 'Rock City' - take a lake cruise and see with your own eyes: Visit 'Sunset cruise to 'The Kissing Rocks'.