Copyright 2003 - 2017 by Hans Kristoffersen/Mwanza Guide 'Destinations in Tanzania Ltd. P.O. Box 5204 Mwanza, Tanzania. All rights reserved.
Mwanza - the gallery
Mwanza - Rubondo Island National Park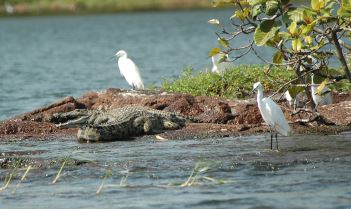 Nile crocodile (Crocodylus niloticus)

A young crocodile (about 1½ meter long) is trying to be angry and very dangerous - while the other one is relaxing in the mid-day heat. The birds (Little Egrets) know quite well, that crocodiles are omnivorous - so, they are very, very careful.