Ukerewe

The first white settler on Ukerewe Island was the German Mr. Carol, who built a residential house in the village Nyamagondo in 1886. Mr. Carol stayed until 1918 and now his house is part of a primary school.

Catholic missionaries from Germany arrived at Kagunguli in 1894. Their initial reception by chief Mutemi Lukongo was rather hostile, due to a misunderstanding between the White Fathers and the chief. This resulted in the dwellings of the missionaries being set on fire and the fathers' hasty return. However, when they came back the following year, 1895, the differences were resolved and by 1898 the first church and refectory were in place. These buildings and the graves of the missionaries can now be seen at the mission in Kagunguli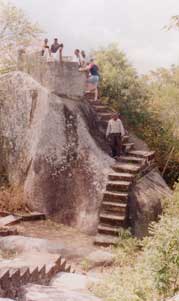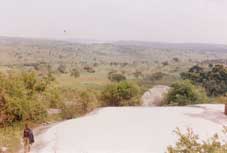 It is easy to go by bicycle in Ukerewe as the landscape is gently hilled. To the west of the island the highest point - Handebezyo, 1.306 metres above sea level - is situated in Halwego village.
The point was a traditional land-viewing site, but it was turned into a memorial in 1965. Earlier the kings of Ukerewe had arranged a 'bank' here, where wealthy inhabitants could deposit valuables for later use. During the kings' rule, seven of the hills here were preserved for water harvesting, which meant that felling of trees was prohibited. After the independence this tradition has been turned down and the hills stand naked today.

The landscape on Ukerewe Island is dominated by cassava plants, mango- and citrus trees. The rocks found in the surface are being used for drying the fermented cassava. This gives very scenic pictures of white rocks in the middle of brown soil. In the district, until the end of the 1980s, there was a big production of rice, coffee and cotton. When the Nyansa Co-operative collapsed, there were no buyers for these products and the coffee and cotton production has since ceased. In the season, oranges and tangerines are produced in abundance and sold to the market in Mwanza and even further away.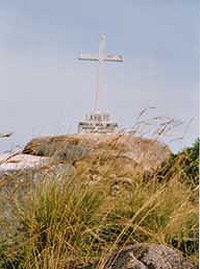 The district is inhabited by the Wakerewe people, who from the old days have been reigned by the kings of Ukerewe,the mtemis. The kings had very strong powers and they ruled with both cruelty and magic. In the last half of the 19th century King Machunda, who was known as "The Rainmaker" ruled. His history has been told by the author Aniceti Kitereza who lived in the village Kagunguli on Ukerewe Island from the 1920's to 1981. Kitereza ended his days here as a poor and rheumatic Ujamaa peasant.
The first cotton ginnery in East Africa was established in Murutunguru village by arrangements of the German missionaries in 1904. Here the first buildings can still be seen.
A German fort was built at Hamyebe between 1904 and 1910, being the District Headquarters of the German East African Empire. The fort lies now in ruins.