Copyright 2003 - 2017 by Hans Kristoffersen/Mwanza Guide 'Destinations in Tanzania Ltd. P.O. Box 5204 Mwanza, Tanzania. All rights reserved.
Mwanza - the gallery
Mwanza - people and culture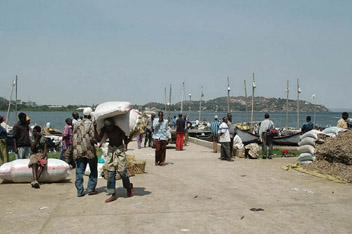 Landing site - for fish
Small fish - big fish are all here. The small ones in the white bags - sardines (dagaa in Swahili) are a delicacy in Tanzania.