Copyright 2003 - 2017 by Hans Kristoffersen/Mwanza Guide 'Destinations in Tanzania Ltd. P.O. Box 5204 Mwanza, Tanzania. All rights reserved.
Mwanza - the gallery
Mwanza - people and culture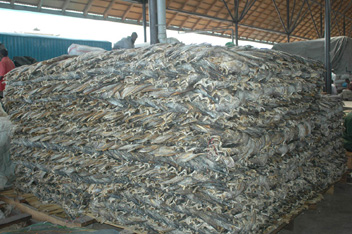 Dried Nile Perch for export
Tanzania is - and has been for a number of years, exporting tons of fish (Nile Perch and Tilapia) from Lake Victoria to Europe - for about 100 million US$ per year.
But the lake is now suffering from commercial (over)fishing.