Copyright 2003 - 2017 by Hans Kristoffersen/Mwanza Guide 'Destinations in Tanzania Ltd. P.O. Box 5204 Mwanza, Tanzania. All rights reserved.
Mwanza - the gallery
Mwanza - and the surroundings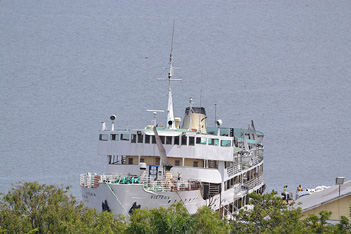 MV Victoria
A special chapter in Mwanza's history book is - MV Victoria. She came to the lake (Kisumu, Kenya) in 1960 - in 1,500 huge crates from Glasgow, UK. Reassembled she served as RMS Victoria (Royal Mail Ship) all ports on the lake with circular service twice a week.
She became MV Victoria in 1963 under Tanzanian flag and has served on the Mwanza - Bukoba route since 1996. Today she is off duty - waiting for what's next in the harbour. There is no ferry service at all to/from Bukoba at the moment.