Copyright 2003 - 2017 by Hans Kristoffersen/Mwanza Guide 'Destinations in Tanzania Ltd. P.O. Box 5204 Mwanza, Tanzania. All rights reserved.
Mwanza - the gallery
Mwanza - and the surroundings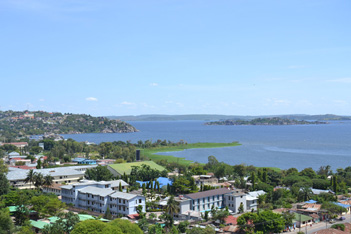 Mwanza View
Another nice view from one of the tall buildings in town - Gold Crest Hotel in the city centre. The big building in the photo (behind the railway station) is Ryan's Bay Hotel -
one of the best in town.