Copyright 2003 - 2017 by Hans Kristoffersen/Mwanza Guide 'Destinations in Tanzania Ltd. P.O. Box 5204 Mwanza, Tanzania. All rights reserved.
Mwanza - the gallery
Mwanza - and the surroundings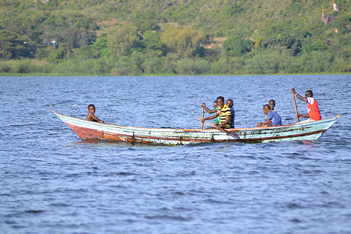 Local canoe
Young boys in a canoe are using the lake to get from one point to the next. The photo is taking from 'Jembe ni Jembe' - one of the fancy restaurants at the lake shore.