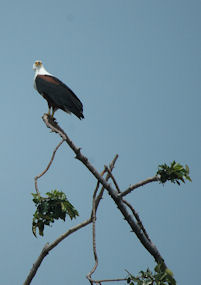 The environment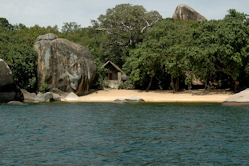 At dawn the sun rises slowly over the off-shore islands, cormorants drying their wings as ancient dhows sail past. You eat breakfast in an open, stone-walled dining room overlooking the bay, and afterward can go for a leisurely boat ride around the island,
or venture off on a hike, or try fishing with a traditional bamboo fly-rod,
or even just sit in one of the canvas beach chairs and listen as
the morning waves gently brush the shoreline.
Lukuba Lodge exists in harmony with its environment.
From Sunset rock, its highest point,
you can watch the sun set over the great African lake,
the afternoon's languid pace catching the rhythms of the island. Lukuba offers an unparalleled way to experience the scenic beauty, the bountiful wildlife, history and culture of Lake Victoria, while being a perfect complement to a Serengeti safari.
All photos by Hans Kristoffersen/Mwanza Guide 'online'
(2009 copyright).