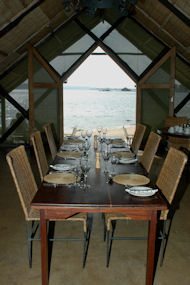 Facilities and rates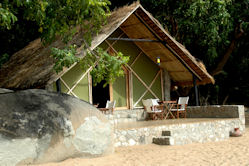 At dawn the sun rises slowly over the off-shore islands, cormorants drying their wings as ancient dhows sail past.
You eat breakfast in an open, stone-walled dining room
overlooking the bay, and afterward can go for a leisurely
boat ride around the island, or venture off on a hike,
or try fishing with a traditional bamboo fly-rod,
or even just sit in one of the canvas beach chairs
and listen as the morning waves gently brush the shoreline.
Getting to Lukuba
To reach Musoma (where our boat will pick you up), the choices are either to go overland via car or fly via small plane into Musoma which has a year round government airport with Customs and Immigration facilities.There is also an airport at Mwanza, which is a 245 kilometres drive to Musoma on a well-paved road. (Transfers can be arranged upon request.)
Guests are met in the town of Musoma by our manager
and escorted to the staging point for departure
on board one of our boats.
The journey to the island takes approximately 45 minutes.
The rates
US$ 270 per person/night - including all meals, guided nature walks,
transport to and from the island and 20% Tanzanian VAT.