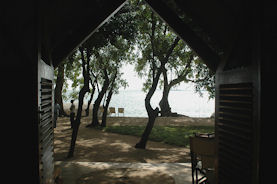 The bungalows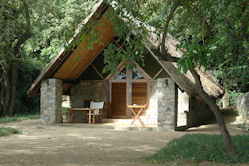 In the morning you can sit in a chair on the stone-paved porch and finally read the novel - you've been carrying across Africa or maybe; watch a vervet monkey pick a fruit from the trees that shade the walkway. The light breeze flowing across the lake makes even the warm days comfortable, and the tempering effect of the thick rock walls keep the cabins wonderfully cool at night.
The Lodge is the perfect place to relax. Whether you've just finished a week-long safari in the Serengeti or just arrived in Africa after an eight-hour flight, Lukuba provides everything you'll need to unwind, to smile again, to take a deep breath and let the sounds and visions of Lake Victoria overtake you.
Lukuba Island Lodge is set on a secluded, soft sand beach on the eastern side of Lake Victoria, the second largest fresh water lake in the world. Countless species of birds flock to its granite boulders, fish eagles and snowy egrets floating over the ripples, as Nile monitors and spotted neck otters swim up on the rocks to sun themselves.
Enormous fig and mahogany trees create a lush green canopy which not only filters the equatorial light, but also provides a home for the vervet monkeys and red / blue agama lizards that frequent them. This is a natural lovers paradise.